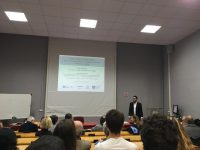 Congratulations to Dr Florent Petitprez who earned his PhD. Florent's PhD project was titled:
Analyse intégrée et impact clinique des
microenvironnements immunitaires et stromaux des tumeurs solides*
. COLOSSUS is acknowledged in the PhD thesis. The research was supervised by Professor Wolf H. Fridman and Dr Aurélien de Reyniès at the Institut National de la Santé et de la Recherche Médicale (INSERM). Florent has since started a new position as a postdoctoral researcher.
In addition, welcome, Maxime Meylan! Maxime Meylan started his PhD in November 2018 and will work on COLOSSUS within the INSERM team. He will contribute to the immuno-bioinformatics analysis for COLOSSUS. Within COLOSSUS,
INSERM
is involved in COLOSSUS Biorepository & Histopathology Analyses and will analyse the composition and functional orientation of the immune, fibroblastic and angiogenic tumour microenvironment.
*English translation: Integrated analysis and clinical impact of immune and stromal microenvironments in solid tumors